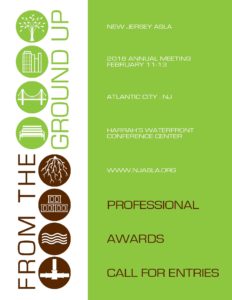 The New Jersey Chapter of the American Society of Landscape Architects is pleased to issue a Call for Entries for the 2018 Professional Awards Program.  The deadline for all submissions is Friday, November 10th, 2017, no later than 5:00 pm.  We strongly encourage all professionals and students to submit an entry in one or more categories.
A jury of qualified professionals will review each submission to determine winners in each category. Award-winning projects will be featured in upcoming NJASLA newsletters, on our website, and in displays promoting the profession across New Jersey.
We will honor award winners and showcase their projects at our conference in Atlantic City on February 11th through the 13th.
Click HERE for more information.  Entrants can upload their digital entries through the drop box below and mail in their entry forms.